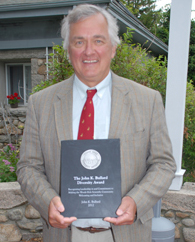 The Bullard Award is given every two years to recognize leadership in and commitment to making the Woods Hole scientific community more welcoming and inclusive.
As CEO of SEA, John Bullard was a driving force in the formation of the WHDI. He worked to bring the Woods Hole institutions together to address the issue of diversity, and he articulated the vision in the 2004 Memorandum of Understanding that established the Diversity Initiative. Before and after the singing of the 2004 MOU, John relentlessly encouraged his fellow CEO's to devote time, energy and resources to making the community more diverse.
The John K. Bullard Award was established by the WHDI when John stepped down from SEA leadership. A plaque in his honor is on display at SEA. Every other year the winner's name will be added to the plaque, which will then move to the institution most closely associated with the most recent winner of the Bullard Award.