Community Diversity Discussion Series
The DAC Community Diversity Discussion Series aims to increase awareness within both the scientific and broader community structures of issues preventing inclusion and diversity in the Woods Hole, Falmouth and Cape Cod region. As such, the Discussion Series serves as a primary method of 1) increasing transparency and communication between the DI, DAC, and stakeholders interested in improving diversity and inclusion in the community; 2) providing opportunities for networking and capacity building among individuals interested in taking action to improve diversity and inclusion; and 3) creating an atmosphere of tolerance through broader community discussions and help build connections toward solutions to those issues.
The Discussion Series will accomplish this mission by:
       

Conducting an on-going series of discussions to directly and comprehensively address barriers to diversity and inclusion in Woods Hole, including (but not limited to): racism, sexism, ageism, gender discrimination, discrimination on the basis of sexual orientation or gender identity, religious discrimination, socio-economic discrimination, implicit bias, systemic bias.

       

At each discussion, highlighting a community organization working toward solutions for diversity and inclusion in the scientific or broader community, ideally an organization directly tied to the specific discussion topic.

       

Including regular listening sessions as part of the Discussion Series, which will solicit the feedback and thoughts of people who have experienced discrimination in Woods Hole/Falmouth.
Have a suggestion or idea?
Discussion # 4
Giving Voice to the Unheard: Stories of Race in Woods Hole
Organized by DAC members: Kayleah Griffen, Amy Van Cise, Onjalé Scott Price & Michael Mazzotta
And WCAI Members: Sarah Mizes-Tan & Hayley Fager
Held July 17, 2019
GOAL: Listening session for minority experiences in Woods Hole to be heard. Create awareness of the challenges and struggles minorities/people of color face living and working in Falmouth/Woods Hole.
OUTCOME: Stories were bravely and honestly told. Listeners were challenged to reflect on their own privileges, actions and allyship. The DAC was encouraged to host this event again, thus we've created the series "Listen Up! Giving voices to the unheard"
Discussion # 3
Not Your Average Diversity Discussion: Bringing together the community and scientific institutions to discuss diversity and inclusion on the Upper Cape
Organized by DAC members: Emily H. G. Cooperdock, Kayleah Griffen, Lindsey Scott, Onjalé Scott Price & Kwanza Johnson
Guest Speakers: Peg Brandon & Henry St. Julien
Held April 23, 2019
GOAL: Create a dialogue between WH scientists/staff and greater upper cape community about diversity and inclusion initiatives. Discover resources and programs that already exist. Discuss common goals and how we may achieve them.
OUTCOME: Compiled list of organizations in/around Falmouth who work to promote diversity & inclusion.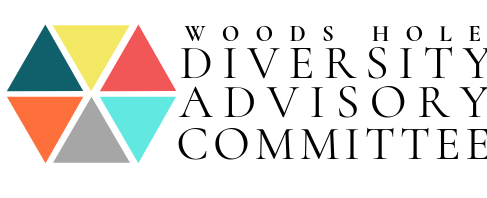 Discussion # 2
Diversity, Equity and Inclusion Efforts at Woods Hole and Beyond
Organized by DAC members: Emily H. G. Cooperdock, Kayleah Griffen, Amy Van Cise,  & Michael Mazzotta
Special Speaker: Dr. Ambrose Jearld
Held February 21, 2019
GOAL: Discuss diversity, inclusion and equity initiatives that are working, are not working, and could work to help better Woods Hole as a community.
OUTCOME: Summary document to be shared with the institutional leadership and participants.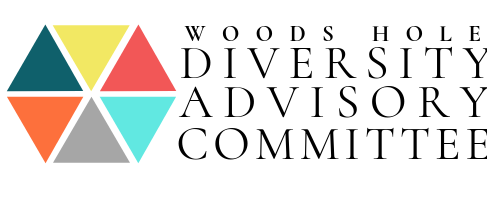 Discussion #1
Diversity and Inclusion in Woods Hole
Hosted/Organized by 500 Women Scientists Cape Cod Chapter
Held November 18, 2018
GOAL: Have conversations about diversity and inclusion in Woods Hole.
OUTCOME: Understanding of the need for more discussions and work to continue. The 'creation' of these diversity discussions.