Preparing to apply
The Woods Hole Partnership Education Program (PEP) is designed primarily for college juniors and seniors majoring in the natural sciences (biology, chemistry, physics, or geosciences and earth system sciences), engineering, mathematics or the social sciences, who have had some course work in oceanography, biology, or marine and/or environmental science. Applicants should have a desire to spend a summer gaining practical experience in marine and environmental science. 
The program consists of a four-week course (June 2 through June 26) and a ten week research project (ending August 7). Orientation for the 2020 program will be held May 31. Students are expected to participate in orientation and to complete both the course and the internship, all of which take place in Woods Hole. Pending the results of a grant proposal, we anticipate accepting 16 students in mid-March into the 2020 PEP cohort.
Application documents
Completion of the online application: now closed
Current résumé or CV
Transcripts (unofficial is acceptable, official are required upon accepting an offer)
2 letters of recommendation (one must be from a faculty member) 
*If an individual recommending an applicant would prefer to submit their letters directly, they may submit it here.
Potential projects & research mentors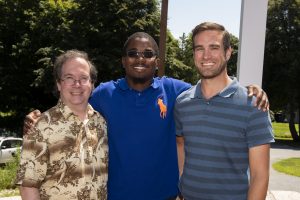 Each year, the PEP Staff matches selected applicants with research mentors across the six scientific institutions in Woods Hole. This matching process has been integral to PEP since its founding in 2009. For the 2020 cohort, students will have the ability to express their research interests based on the potential research mentors and projects list. 
Note: The program cannot guarantee a direct project/mentor match. However, your interests will be taken into consideration.
Important dates & announcements
Dates
mid-December 2019 – Applications open for 2020
February 15 – application deadline
mid-March – 2020 class announced: Selection complete!
May 31 – orientation in Woods Hole
June 2 – 26 PEP course (includes a five-day voyage aboard the SSV Corwith Cramer) 
August 7 – final presentations/symposium
August 8 – students depart
Announcements
PEP 2020 Selection Decisions
COVID-19 and PEP 2020
PEP 2020 Selection Decisions
The PEP staff has concluded our selection process and we have a class of 17 students selected for our 2020 summer program.
 If you have not had an email for us, then the Selection Committee did not choose to make you an offer. I would like all applicants to know that we had more than 10 strong applications for every available slot in the program, and we are not able to offer a spot to every deserving applicant.
George Liles, PEP Director
COVID-19 and PEP 2020
Please bear in mind that given the developing situation with the spread of the coronavirus disease (COVID-19), changes in federal, state, county, or local policies are likely. In addition, PEP's partner institutions may enact bans, restrictions, or travel limitations that would preclude us from hosting PEP as planned in the summer of 2020. While we are continuing to plan our 2020 program, we must reserve the right to modify or cancel the program if the situation warrants over the next month or two.  
Points of contact
Kwanza Johnson, Academic Programs Coordinator
kwanza.johnson@noaa.gov
(508) 495-2177


George Liles, PEP Director
George.liles@noaa.gov
(508) 495- 2318


Paulinus Chigbu, University of Maryland Eastern Shore
pchigbu@umes.edu
(410) 621-3034
Alumni publications and program media

Photo gallery 2019
Photo gallery 2018
Back to: